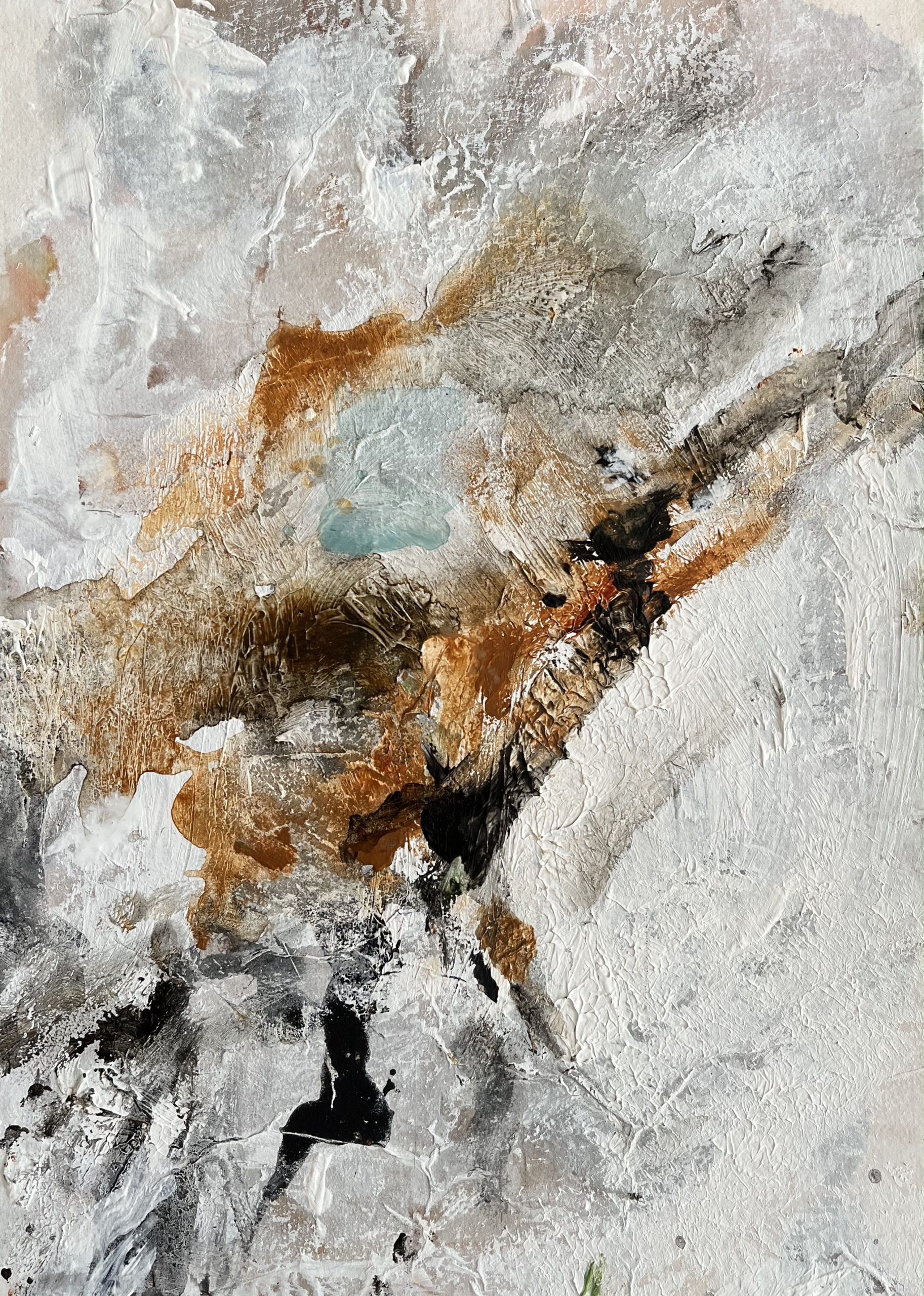 24.02 – 27.02.2023
Madrid, Spain
Tana Borissova, Andrew Ntshabele, Joël Person, Johan Van Mullem
We are pleased to announce our participation in the 2023 edition of the contemporary art fair JUSTMAD in Madrid.
TANA BORISSOVA

Tana Borissova was born in Sofia, Bulgaria in 1978. She has been living and working in Paris, France since 1997. She became interested in art through books that she discovered during her childhood. While studying in a high school of applied arts in Sofia, her desire to create art was awoken when she began creating oil paintings, watercolors, and drawings. When she arrived in Paris at the age of nineteen, she was accepted to the École Nationale Supérieure des Beaux-arts (ENSBA), where she studied with Vladimir Velickovic and Dominique Gauthier. She graduated in 2003.

In her work, Borissova explores the body, the space within it, and its interactions with the outside world. She does so by referencing nature and its metamorphoses, movements, momentum, and contradictions that go beyond a scale of time.

The gallery Myriam Bouagal exhibited her first solo show, Corps, in January 2014, as well as her second show in June 2015, Ma place mon corps, which included inks and paintings. In September 2017, she presented her work in the Arrivage Gallery in Troyes. She published a collection of inks and texts for the occasion. In May 2019, she presented a selection of her inks and paintings with Loo & Lou Gallery during the JustLX art fair in Lisbon, Portugal at the Museu da Carris. From January to March 2020, the Loo & Lou Atelier hosted an exhibition of her paintings entitled Éclats de nuit.

ANDREW NTSHABELE

Ntshabele has quickly developed a personal technique through painting figures in acrylic on large format supports made of collaged newspapers.

Andrew Ntshabele depicts characters that he observes on the streets of Johannesburg as a reflection of the negative physical, socio-economic, and political changes of the post-apartheid city of Johannesburg. Selectively choosing newspaper backgrounds with pertinent headlines, he paints over them with the resulting pressure and strain on citizens who live and work in a polluted city. Photographing and meeting his subjects around the city prompted him to investigate these difficulties in order to understand the root causes of the degradation of the city center.

After the Covid-19 pandemic hit, Andrew Ntshabele would like viewers to confront his art from a new perspective and try to find happiness in these difficult times. Within some of his recent work, more joyful feelings are present. For this new series, he explores both medium and large supports using newspaper articles about Covid-19.

Born in 1986 in a small town in South Africa, he studied at the University of Art in Johannesburg and graduated in 2013 with a major in painting. Since then, he has been living and working in Johannesburg.

 

"I believe and know that the old world as we know it is a thing of the past…we are entering a digital age and now more than ever it is important to preserve history and document it. I am fascinated and excited to do this through my art."

– Andrew Ntshabele

JOËL PERSON

"Joël Person was born in 1962 in Abidjan, Ivory Coast and he currently lives and works in Paris. After graduating from the École nationale supérieure des Beaux-Arts de Paris, he devoted himself to portraiture before focusing drawing horses and erotic poses. He combines the classical purity of the line with a rare intensity of expression in his paintings and drawings. Person knows the traps of virtuosity. He looks for the moment where a nervous influx or spurt of life might change the careful framework of a figure.

Since his childhood he has been fascinated by horses whose physical structure he finds to be saturated with energy. He is equally captivated by the human figure. Eluding his own figurative technique, he looks for a breaking point in the static ritual of the pose. The moment a model rears up and flees elsewhere, he captures it with a contraction of the forehead, a twisting of the shoulder, a tilt of the face; Person maintains an illusion of realism. The intense life within his portraits is not born from the expressionist style, but rather from an anxious tension. It emerges from the artist's confrontation between the "self" with others; a sudden surge towards freedom, a raw solitude which suddenly and briefly arises between the surface of the body, and the tension of the nervous system."

— Philippe Garnier, Les Cahiers Dessinés #9

The artist has had several solo and group exhibitions in France and China, and many institutions have taken an interest in his universe. He has participated in residencies throughout the world that testify to his international career (China, several times, Bosnia-Herzegovina, Ireland, Slovenia…). His work is a part of many private collections and is present in several important collections, notably within the collection at Hermès; his drawings and paintings are exhibited in their boutiques around the world (Paris, Milan, Istanbul, Tokyo, Shanghai, Dubai and Las Vegas…). Person has also taught drawing at the Prép'Art and Atelier Hourdé. His drawing Confinement has been acquired by the musée Jenisch in Vevey, Switzerland and his first book Et il n'est plus de place alors pour la peur will be published in September by Cahiers Dessinés.

JOHAN VAN MULLEM

Johan Van Mullem was born in Congo in 1959 to Belgian parents. He grew up moving around the world as a result of his parents various diplomatic postings, including a seven year stay in Tunisia. The artist has always been an autodidact. He started drawing at the age of five and  never stopped, following in his father and grandfather's footsteps. His family roots are in the city of Bruge, and from which he went on to study architecture in Brussels. Later on, Johan began exploring with etching and painting. Today he paints with etching ink, and is considered to be one of the only artists who uses this medium as a way to create paintings.

 

Since his youth, Van Mullem has persisted in his search for wrinkled faces, seeking the beauty that he recognized in the experience that is "engraved" on faces and in hands. Since then, the face remains the major subject of his work. The subjects appear  rejuvenated, disappearing or emerging in a halo of light in an old-fashioned sfumato, offering an escape into a world of emotion. His work is an invitation to look inward and go on a journey of omnipresent emotional charge of which one  cannot part ways indifferently, an effect of the bewildering depth of his paintings.

 

The superimposition and erasure of many smooth layers of diluted inks further accentuates the feeling of viewing a presence on the canvas that is difficult to describe. Van Mullem has mastered this specific and unique technique through self-learning, executing his pieces in etching ink as an extension of his experience as an engraver, giving his work an additional, exceptional character.

 

A multifaceted artist, designer, poet, musician, painter and sculptor, Van Mullem strives to create a diverse but absolutely coherent œuvre that builds bridges to link and awaken our senses. Though his pieces are contemporary, they can suggest references to historical masterpieces.

 

His paintings are in major private collections and Museum collections throughout Europe. He has held solo exhibitions in Art Galleries located in London, Paris, New York and Brussels. His work was exhibited in various European Museums.