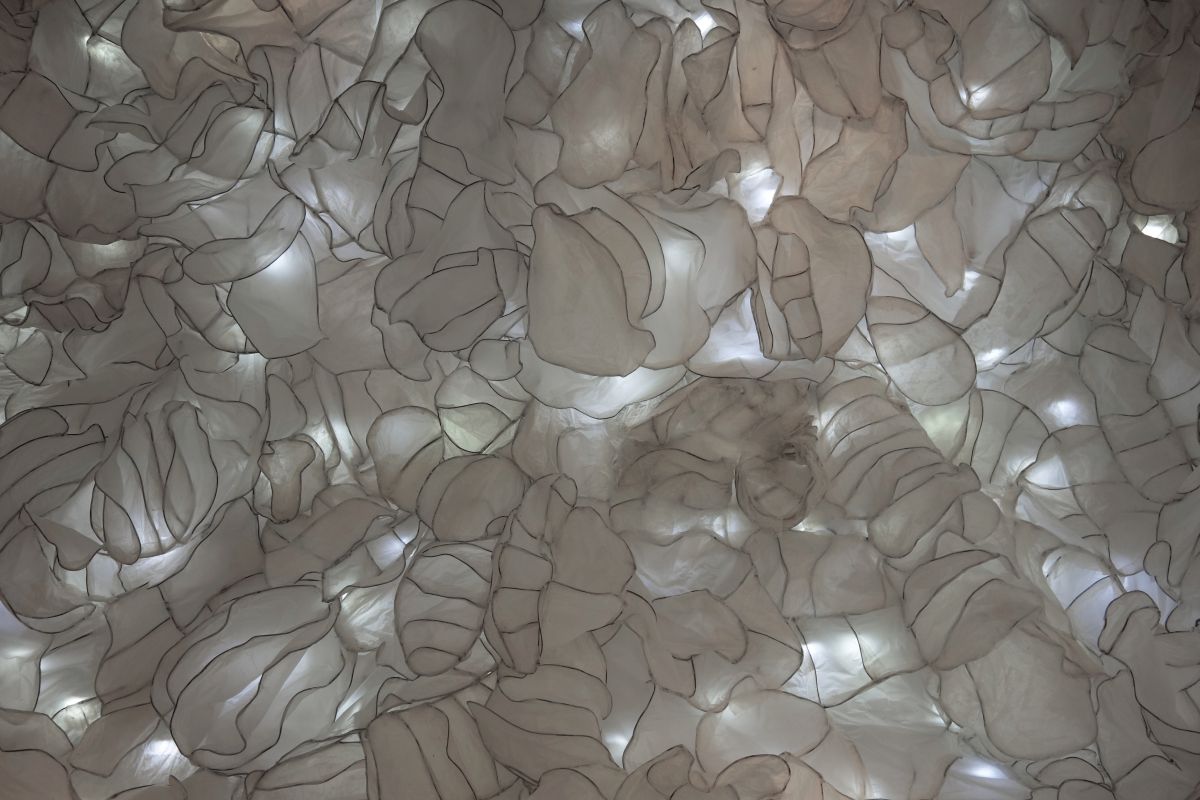 Flo Arnold, Installation, papier hydrofuge sur laiton gainé, led, 600 x 340 cm, 2018 © Flo Arnold
FLO ARNOLD
Flo Arnold was born in France and grew up in Casablanca, Morocco. She currently lives and works between Morocco and France. She has had many solo shows in France and abroad, notably at the Marrakesh Biennial in Morocco in 2014 and in 2016, and at the Loo & Lou Gallery in Paris, France in 2018. She also presented with the Loo & Lou Foundation in 2018 the monumental installation Le secret des signes during "Nuit Blanche" at the Church of Saint Paul in Paris, France. Additionally, Arnold participated in several group shows, including ones at the Foundation Pierre Berger and the Institut du Monde Arabe in 2013, at the Musée de la Palmeraie in Marrakesh, Morocco, in 2014, and at the Institut Bernard Magrez, in Bordeaux, France, in 2017, among others.
The crossing of cultures is a key element in her work and has been forged by her many trips through Africa, Europe, and the United States. Her installations display an existential nomadism with artistic gestures that are born from her journeys. In 2016, she participated in the Biennale de Marrakech, where she exhibited her waterproof paper on coated brass installations for the first time at the Musée de la Palmeraie. 
Her creations are often backlit and sometimes supplemented with sound. She uses Japanese white paper to suggest ephemerality and fragility, but also a kind of evanescence emphasized by the appearance of levitation. Arnold's sculptures indeed appear to be floating, and create a space for contemplation and spirituality. 
"My life is the story of earth and encounters, my identity 'citizen of the world'. My childhood influenced my artistic research, always in motion, changing countries, houses, cultures. I've learned a lot from the people around me."
In the Loo & Lou Atelier, she installed a piece in situ entitled Vertige du Monde. A germination of organic, backlit paper devoured the space as if it were overgrown vegetation, that was accompanied by a soundtrack. The interior space disappeared under a spotless "waterfall." With this piece, she emphasized that in order to forget the dizziness of the world around us, we must live in a sphere without borders nor limitations in the search for our inner peace.
Collections/Prizes:
Room Mate Collection / First Prize - JustMad2019 / Arts Garden, City of Marrakesh/ Mamda Foundation, Rabat / Saadi Palace, Marrakesh / BMCE BANK, Marocco / Société Générale, Morocco / CNIA Insurance / San Francisco Food Bank / The Royal Palace, Morocco / Palmeraie Museum, Marrakesh
EXHIBITIONS
2017
Exhibition, 6.4 Gallery, Marrakech, Morocco.
Macparis, group exhibition, Bastille Design Center, Paris, France
Un pas de côté, group exhibition, Église des Célestins, Avignon, France.
Never Give Up, group exhibition, Institut Bernard Magrez, Bordeaux, France.
Effleurage, group exhibition, space Souffle, Casablanca, Morocco.
2016
Les instants vidéo. État d'urgence poétique, Friche la belle de mai, Marseille, France.
No boundaries, 29 Gallery, Évian, France.
Biennale de Marrakech, Musée de la Palmeraie, Marrakech, Morocco.
Guest of honor, group exhibition, Fauv'Art, Ferney Voltaire, France.
Group exhibition, Arielle d'Hauterives Gallery, Bruxelles, Belgium.
2015
Songe de matières, exposition de sculptures, Espace Expressions CDG Gallery, Rabat, Morocco. 
2014
Biennale de Marrakech, Yahin & Boaz Gallery, Marrakech, Morocco.
Insoumission, Musée de la Palmeraie, 2ème forum international des droits de l'homme, Marrakech, Morocco.
Pop Up, Vogelsang Gallery, New York, United-States of America.
2013
Exhibition, Saint James Gallery, Bordeaux, France.
SYRIART, Fondation Pierre Berger, Institut du Monde Arabe, Paris, France.
2012
Noir sur Blanc Gallery, Marrakech, Morocco.
2011
Loft Art Gallery, Casablanca, Morocco.
Biennale de Marrakech, Marie Vitoux Gallery, Paris, France
2010
Biennale de Marrakech, Loft Gallery, Casablanca, Morocco.
2009
Exhibition, Loft Art Gallery, Casablanca, Morocco.